15th UPM Theatre Festival Awards Ceremony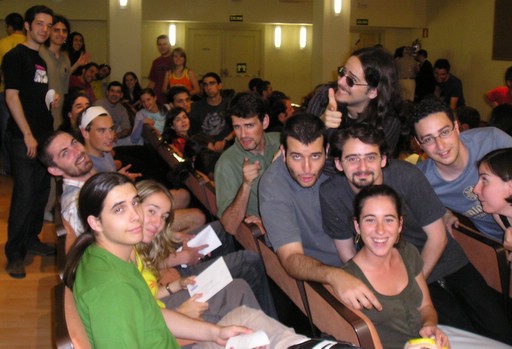 Histrión was well placed for the 15th Universidad Politécnica de Madrid Theatre Festival this year with two plays in the competition. In the end, the group's hard work was very well rewarded.
The first of the two plays was Tricicle's Manicomic. This was an innovative genre, the first time the festival had hosted a mime play and especially such a funny one. The three actors, guided by their director and supported by their technicians, managed to keep up the laughter in the stalls throughout the hour-and-a-quarter performance.
The second play was Friederich Dürrenmatt's The Visit, which went ahead thanks to the determination of 30, yes, 30, people. There were times when even we did not know how many of us there were: 24 actors, two directors, a graphic designer, live pianist and guitar player (among others things), backstage manager, lighting technicians... All last year's members, many friends that have enjoyed other Histrión plays over the years, and four Erasmus students of different nationalities, participated in this play. They all wanted to tell the audience this story of love, misfortune, justice and vengeance at a small village called Güllen.
The ten theatre groups participating in the festival performed a total of 18 plays vying against each other for the seven award categories: best production, best director, best actress, best actor, best supporting actress, best supporting actor and special jury prize. Even so it is not a competition as such, and more attention was paid to forging relations than ever this year. The feeling among the participating groups is really good (and if you don't believe us... ask about the party afterwards...).
All the Histrión theatre association's hard work throughout this academic year on both its entries was rewarded on 17 May last with best actor nominations for the Manicomic cast -Raúl Gómez Ballesteros, Diego Moreno Lázaro and Jaime Nuche Bascón- and the best actress award for Clara Izquierdo Sanz playing Clara Zachanassian.
Once again we are proud of our work and we are already looking forward to what next year will bring.